BongaModels Review
Let me introduce BongaCams, one of the best and most awarded webcam sites in the world. The site is ranked number 36 according to Alexa rank as the most visited website in the world. If Google is ranked number one, you can just imagine how many people visit BongaCams. The website is translated into 34 languages and automatically opens in the user's country language. Also, it has a very user-friendly mobile version, so you can enjoy live chats on the go. You might be asking, why are you telling me this information? I just want to know about the camming options this site offers. Well, I would gladly answer that! This information will help you understand the possibilities and the earning potential of BongaCams. With so much traffic and support for so many languages, the platform can bring a lot of revenue for any new or experienced webcam model.

BongaModels pros:
NO CHARGEBACKS
TRAFFIC FROM ALL OVER THE WORLD
OVER 50% REVENUE SHARE
What do I need to start working as a model?
You'll only need a webcam, a computer, and an internet connection. That is it! If you have a notebook or a laptop with a built-in webcam, that's going to work as well. But the better webcam you have, the better quality of your stream you are going to get. So, upgrading your webcam should be your top priority if you want to please your users with HD broadcasts and earn more money. The registration is FREE and will only take you no more than 5 minutes to create an account.
How much money can I earn on BongaCams?
That's a good question! Models can make from $300 a day to $5,000 a week working on BongaCams. That's because you'll be getting over 50% commission from every dollar earned! In addition, you'll have access to referral programs that will allow you to make up to 25% of referred members' purchases and 5% of referred models' and studios' earnings. Note that referred members can also spend money on you thus increasing your earnings.
Who can become a BongaCams model?
The registration is open for everyone: women, men, couples, and transsexuals. The only rule is that you must be 18 years of age or older to become a performer on BongaCams.
In the next part of this review, we will provide step-by-step instructions on how to register a model's account on BongaCams and what you will need to get started. So stick around if you want to know more!
If you can't wait to start your journey as a webcam model, use the quick links below. There is also a link to the BongaCams site where you can register a free user account. Therefore, you can check how everything looks from a user's perspective, try out the features that are available for a user, find out how other models interact with users, what models do in their public chats, what sex toys they use, and so on. You can turn that information to your advantage and become the best performer on BongaCams who already knows all the tricks.
How to become a BongaCams model
1. Where to start?

The road to becoming a successful webcam star begins on BongaModels, a BongaCams models' site where you can register a models account, find answers to frequently asked questions, discover tips on how to earn more, and read terms. VISIT BONGAMODELS
2. Creating an account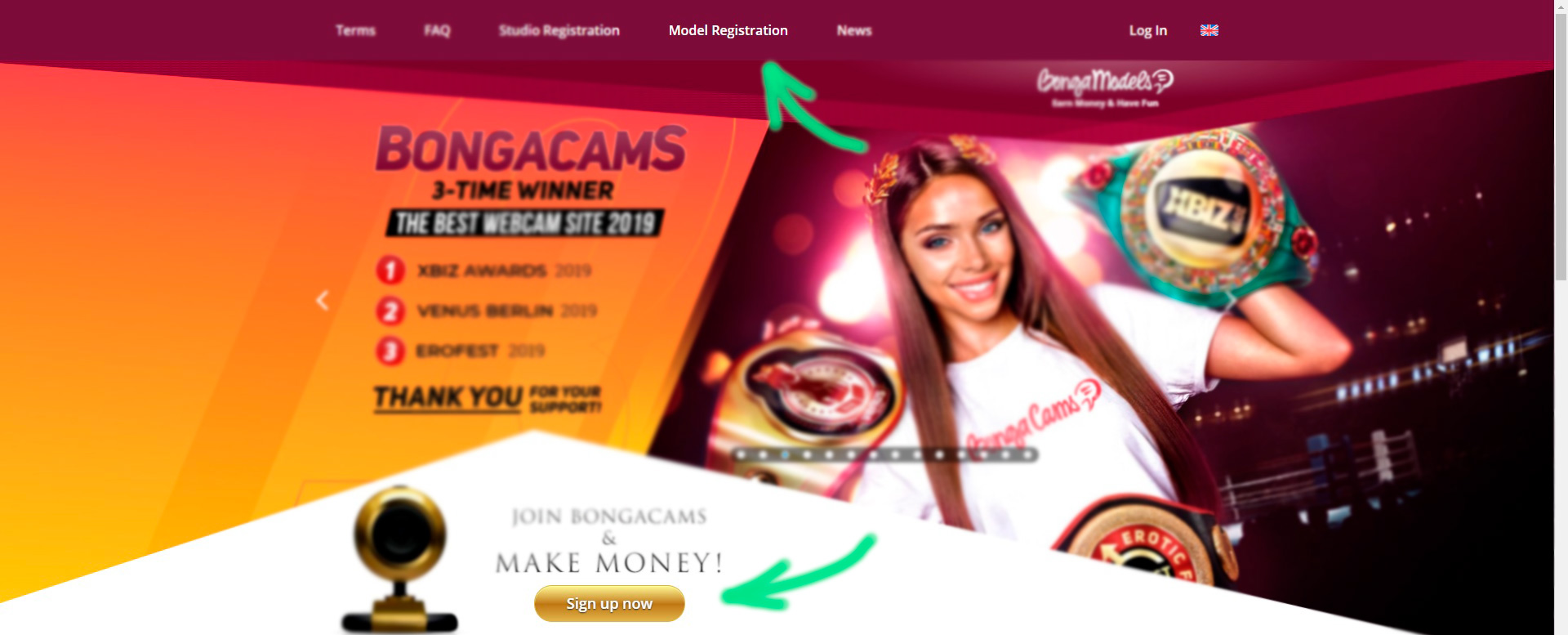 BongaModels is translated into English, German, Spanish, Romanian and Russian languages. You can switch to the preferred language by clicking on the flag in the top right corner of the site. When you are done with that, click on the "Model Registration" in the header, or the "Sign Up Now" button in the middle of the site and a model window will open.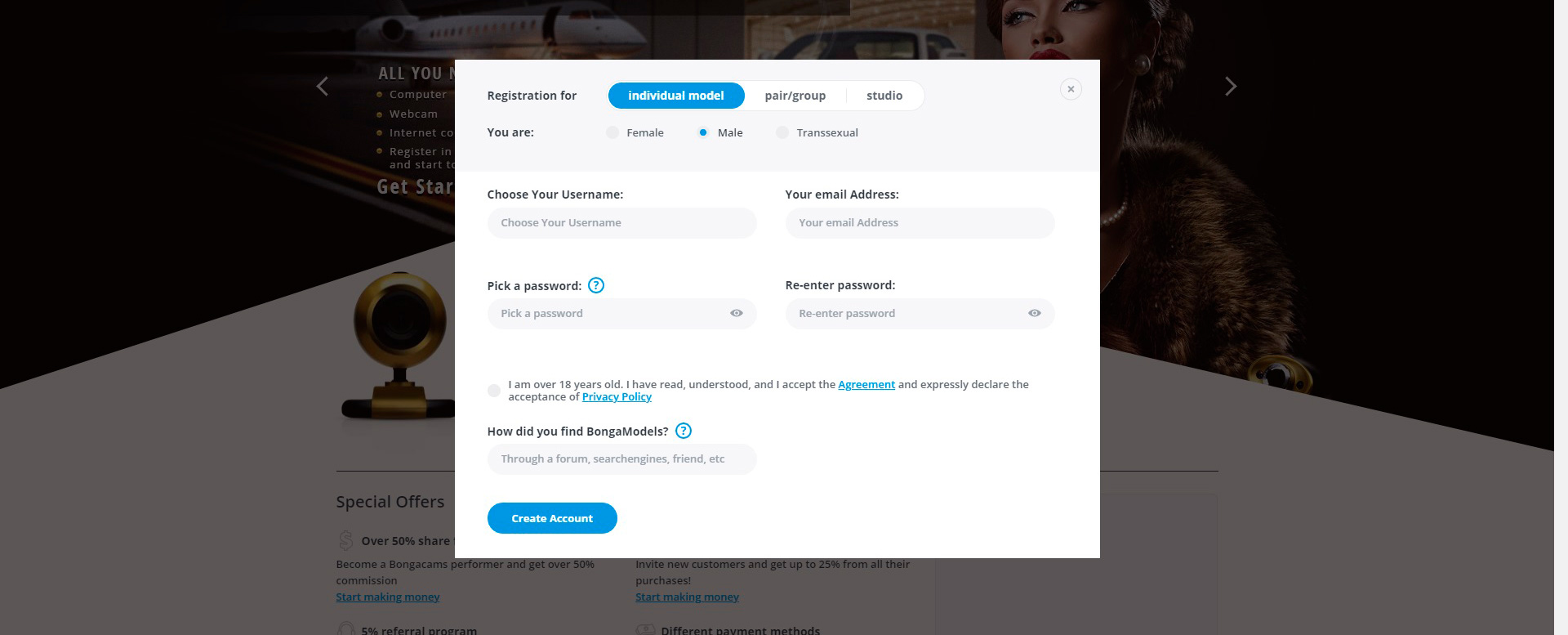 In the new window, you need to fill out all the fields:
Registration for
There are 3 options. If you want to work solo, then choose "Individual model" and your sex. Select "pair/group" if you plan on working with a partner or a group of performers. In this option, you need to indicate the number of participants and their sexes. You can always add performers later even if you have selected the "Individual model" in the first place. Just remember if you have a "pair/group" account, you won't be able to perform alone. You will have to create another account just for yourself. The last option is the studio account. This is for those who have a model agency or will recruit new models.
Choose Your Username
This will be your login and your display name on BongaCams. The display name is what will you be remembered by. So try to create something catchy and sexy. Think of it as your own brand. Don't worry if you can't come up with a cool nickname now. You can always change the display name at any time in your account settings.
Your email address
Use a working email address. Keep it secure and don't share with anyone. If you don't have a 2-step verification on your email, I strongly suggest you enable it immediately.
Pick a password
Use a strong password with special characters, numbers, uppercase, and lowercase letters. You don't want to lose your account to some hacker.
I'm over 18 years old
Read the agreement and check the box. Please note that your account won't be approved If you are not 18 years old.
How did you find BongaModels?
You can skip this field.
Click on the "Сreate account" button after you have filled in all the fields. You will also receive an email to confirm your email address. Don't forget to do that.
3. Choose the registration type
You'll be redirected to a new page where you need to choose how you want to register. In this step of becoming a webcam model, you'll have to upload the photos of your document to verify that you are of legal age to perform on an adult website. Please don't worry about the safety of your identity. Your information, including the photos of your ID, will not be shared with any third parties. BongaModels takes the protection of personal data very seriously.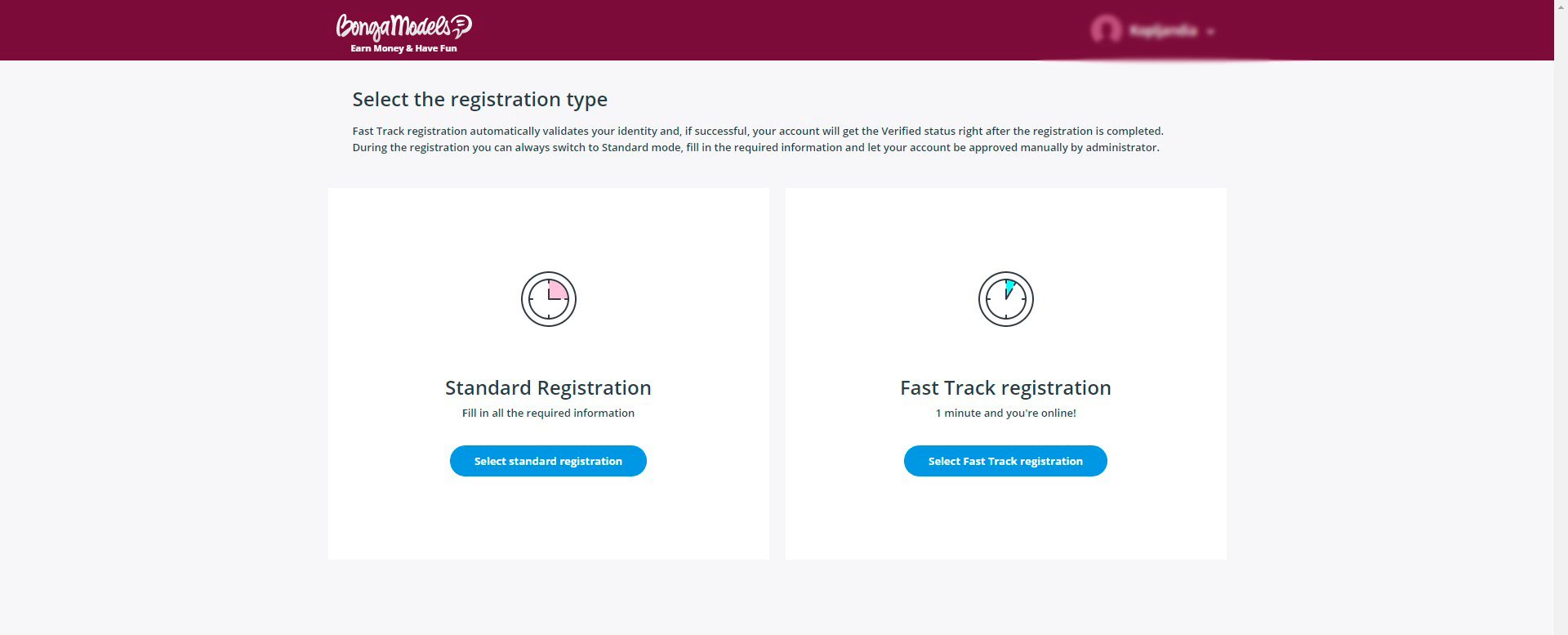 There are the following registration types:
Fast Track Registration
The fastest signup process. You need to select your country and your document type. After that, you will need to upload the photo of your document, your face photo, and upload or take a snapshot of your face holding the document in front of you. Please make sure that everything is visible in the photos. Your face should be seen clearly.
Standard Registration
This process takes a bit more time. You need to type in your Name, Last Name, Country, Region, City, Street Address, Zip/Postal, Documents' Expiry Date, and date of birth. You will also need to upload a photo of your ID, your face photo, and upload a photo of your ID next to your face. Or you can use the "Take Snapshot" option and use your webcam to take the photos.
This is the most important step of the registration, so please check everything thoroughly before submitting, especially the images. If your photos are not clear, or the information on your ID is hard to read, they will be declined and your account won't get approved. Some tips when taking your face photo: do not wear sunglasses or a hat, and try to avoid having a heavily decorated wall as your background.
Once you made sure that everything is in order, go to the next step. Your account will be automatically submitted to the BongaModels managers for approval.
4. Profile Information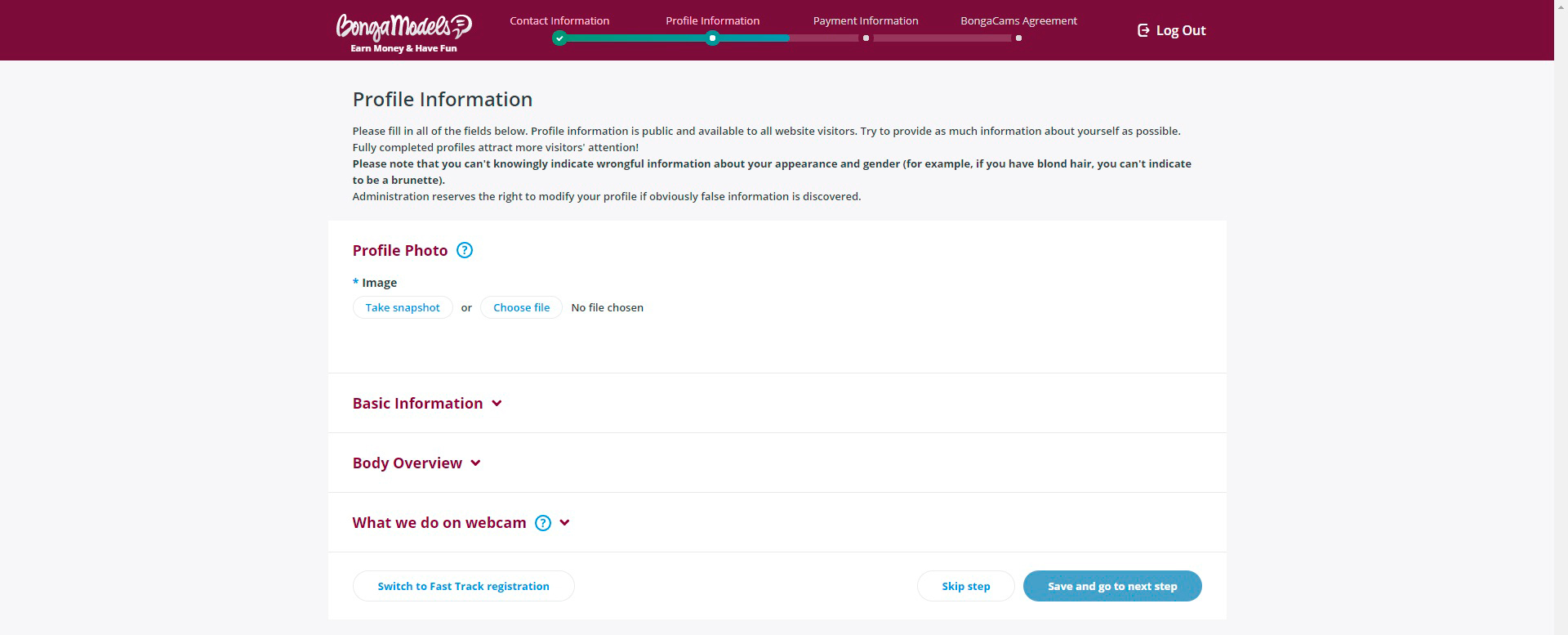 While you wait for your account to be activated, fill out your profile information. This information will be visible to all the users on BongaCams. Previously we mentioned that you should think of your username/display name as your brand. Well in this part, you'll have to add what your brand is all about. You don't have to fill out everything truthfully. So if you lie to make yourself look hotter or sexier, there won't be any problems. Just don't get carried away. Users will still know if there are drastic discrepancies between your profile and how you really look. You can skip this step and fill out everything later. But let's look closely at the fields we have here:
Profile Photo
Upload a photo of yourself, or if you have a pair/group account, a photo with all the performers. The profile photo shouldn't have any nudity. Don't upload blurry photos or photos of cartoon characters.
Basic Information
– Display name. My advice is to make your nickname sound hot and memorable. Just look at the names of famous pornstars. Surely, you can add your real name, but where is the fun in that? Overall, it's your call.
– Display age. Here you can specify any legal age (18+). Just don't indicate that you are 18 years old if, in fact, you are over 60 years old. And vice-versa. You don't want to be a teen cam girl in a mature or granny category. The BongaModels team will not allow that.
– About me. Write a short text about yourself. Something that will spark interest. The maximum number of characters is 75.
– Ethnicity. This is the part where you shouldn't lie.
– Primary language. This choice will determine which countries your chat room will be displayed first to. It will not help your webcam carrier if you'll indicate, for example, the Czech language and do not know a single word. So be careful about your pick.
– Zodiac. You can choose either your real zodiac sign or the one you want.
– Sexual preferences. Just choose the one that fits you.

NB! You can always change this information. After finishing the profile information step, you'll be redirected to your account. From there you can navigate to the Basic Information menu where you will see all those options and a few more. I would like to cover them in this section as well, as they are closely related to the image of your model persona. Here are the following extra options of your profile that you will be able to indicate later:
– Secondary language. Choose an additional language you speak.
– Gender. Pretty self-explanatory.
– Country. You don't have to select your real country, any country will do. Only if you have a mysterious origin story that you want to role-play. Like you are a girl from a small Bulgarian village and want to make it big in the cam industry. Oh, that sounds arousing already!
– Hometown. Doesn't have to be an actual city you live in. So indicate whatever you want.
Body Overview
Nothing to cover here in detail. Just try to indicate everything here as honestly as possible. Of course, you can lie about your weight and height. Just don't overdo it. A petite cam girl shouldn't be in a BBW category.
What we do on webcam
Here you are presented with choices of what you can do in your chat room. Just check the ones you feel comfortable doing. There is no pressure here. If you want to select non-NSFW stuff, then so be it. Some models don't even get naked and earn money only by chatting and dancing. So there is no point in selecting some really kinky stuff if you won't be able to commit. After all, users will be able to see what you have indicated and will choose to visit your chat room based on these choices. You need to select at least 5 things you can do on cam.
If you are done filling out your profile information, click "save and go to the next step".
5. Payment information
On the payment information page, you'll need to select the way you want to get paid. In the minimum payout select your preferred minimum amount of earnings you need to reach before BongaModels can send you the payment. $50 is the minimum amount when you can withdraw your money, and $5000 is the maximum. On the right choose the preferred payment method.

You have the following options for getting paid:
WebMoney
Paxum
ePayService
Cryptocurrency payments
US models and studios can also get paid by:
Click "save and go to the next step" once you are done.
6. Agreement
The final step is to confirm the BongaCams agreement. I suggest reading it very carefully as it has important information on what is not allowed to do in your webcam shows. Some violations may result in a fine, while others may lead to account closure. So take this very seriously as you don't want to end your camming job by not following the simple rules.
Check the box that you have read the agreement and click on the "Submit and go to your account" button. And that's it!

Congratulations! You've just created your webcam model account!

There is one thing you need to do before you can enjoy your carefree life as a webcam star. You need to raise your RevShare score. This percentage determines how much money you are going to get. The things you need to do are located in the profile completeness block on the right just below your username. Nothing too hard, just things related to your profile. Not only completing all these steps will increase your RevShare score, but also will help you stand out from the rest of the models. Make your profile unique and exciting so users will want to visit only your chat room. I also encourage you to explore other features of your account. You'll find lots of useful stuff that will help you boost your earnings.
By this time, your account should already be approved thus allowing you to enter the world of BongaCams by clicking on the "START BROADCASTING" button.

If your account is still not activated or you have any questions, just contact the BongaModels support team. They will be happy to help you!
Have fun camming on BongaCams!